FODSI Seminar
Caroline Uhler (MIT). Autoencoders and Causality in the Light of Drug Repurposing for COVID-19.
FODSI Seminar
Cong Ma (UC Berkeley). Minimax Off-Policy Evaluation for Multi-Armed Bandits.
FODSI Seminar
Suvrit Sra (MIT). SGD without replacement: optimal rate analysis and more.
FODSI Seminar
Jiantao Jiao (UC Berkeley). Sharp Minimax Rates for Imitation Learning
FODSI Seminar
Costis Daskalakis (MIT). Equilibrium Computation and the Foundations of Deep Learning
FODSI Seminar
Peng Ding (UC Berkeley). Multiply robust estimation of causal effects under principal ignorability
FODSI Seminar
Michael Jordan (UC Berkeley). Towards a Blend of Machine Learning and Economics
FODSI Seminar
Rong Ge (Duke). A Local Convergence Theory for Mildly Over-Parameterized Two-Layer Neural Net.
Watch video
FODSI Seminar
Arnaud Doucet (Oxford). Perfect Simulation for Feynman-Kac Models using Ensemble Rejection Sampling.
FODSI Seminar
Mary Wooters (Stanford). Sharp Thresholds for Random Subspaces, and Applications.
FODSI Kickoff Meeting
The FODSI Kickoff meeting took place on on Nov 10, 2020 (virtually). Watch the videos on the Simons Institute Youtube Channel
Watch videos
FODSI Seminar
Carola-Bibiane Schönlieb (Cambridge). Data driven variational models for solving inverse problems.
Watch video
FODSI Seminar
Alex Andoni (Columbia). Approximating Edit Distance in Near-Linear Time.
Watch video
FODSI Seminar
Gábor Lugosi (Pompeu Fabra University). On Estimating the Mean of a Random Vector.
Watch video
FODSI Seminar
Francis Bach (INRIA). Distributed Machine Learning over Networks.
Watch video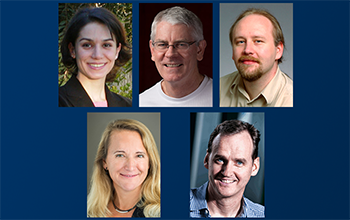 The National Science Foundation has awarded $12.5 million to establish a multidisciplinary institute---a collaboration between UC Berkeley and MIT, partnering with Boston, Northeastern, Harvard and Howard Universities, and Bryn Mawr College---to improve our understanding of critical issues in data science, including modeling, statistical inference, computational efficiency, and societal impacts.
Read More